More companies than ever are offering work from home positions to their employees. This particular legacy of the Covid-19 pandemic has some real benefits. Here are some of the best things about working from home.
Flexibility
There's no denying that work from home jobs offer more flexibility to workers. You can sleep in a little later because you no longer have to commute. You can take care of certain things during the day instead of having to do all your errands or housework after you come home from your job. For example, you can throw in a load of laundry during the day, load your dishwasher or even start dinner prep in order to stay on top of your to-do list. Remote jobs offer more control over your schedule and life.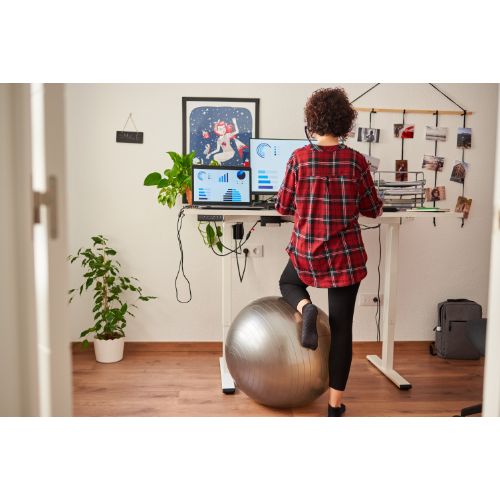 Comfort
Many remote positions have a fairly flexible dress code. This means you have a lot of options when it comes to your work-wear. An article written by Sondra Wolfer for themuse.com further explains, "Day-to-day comfort is personal, but working from home gives you choices beyond business or business-casual looks—especially on days that are light on virtual meetings. Many people with disabilities, such as chronic back pain or mental illness, can also benefit from WFH gear and settings personalized to meet their needs. An employee with chronic joint pain, for example, may feel more comfortable in their ergonomic home desk chair. A worker with seasonal affective disorder (SAD), can position their desk near a window to get more sunlight. Someone who moves or fidgets often through the day can do so without worrying about distracting others."
Spend Less Money
You know how it is when you work in an office. There's always someone who asks if you want to grab a coffee, or go out to lunch. There can be a little bit of peer pressure for you to spend money in order to further bond with your co-workers. You also have to pay for transportation, appropriate work clothing and possibly even childcare. Remote jobs are a great way to cut back on all of these expenses. When you aren't leaving your home as much, there's less of a temptation or reason to spend money unnecessarily.
Personalized Workspace
When you work out of your own home, you have the opportunity to personalize every aspect of your workspace to suit you. This type of control over your work environment means you can customize it in ways that can help you work more comfortably and efficiently. You don't have to worry about collaborating on a communal space with coworkers. It's nice to have the power to set up your space in a way that helps with productivity.
No Commute
Removing a commute from your daily schedule frees up a lot of time. Whether you worked 5 or 50 minutes away, you now get that time back. Use it however you wish!
These are just a few benefits to working from home.