There are many reasons why a person would need or want to find a side-hustle. When you can make money without a ton of effort in your free time, it gives you an extra financial cushion. Pad your bank account by trying one of the following side hustles.
Rent your Home/Pool/Car
If you own something, there's a chance you can rent it out to people. You can rent out rooms or your entire home, rent out your pool and even rent your car to visiting tourists. There is money making potential when you simply have to loan your things out in order to make a few bucks. If you're not using it, you might as well get paid for someone else to!
Flip Furniture
Supply chain issues have caused furniture prices to skyrocket. There's no better time than now to teach yourself how to flip furniture. Not only will you be able to use your newfound skills to sell pieces, you'll be able to spruce up some of the furniture you have in your home too.
House/Pet Sit
There are a lot of people out there who want to know their homes and animals are taken care of while they're out of town. Because of this, pet sitting and house sitting is a perfect side hustle. You get paid well for doing a minimal amount of work and you can easily work your duties into your existing schedule. 
Rideshare Driver
Driving for companies like Uber and Lyft is a great way to earn extra money. You can do it at odd hours and still make quite a bit of money outside of your normal 9-5. The flexibility this side hustle offers is excellent.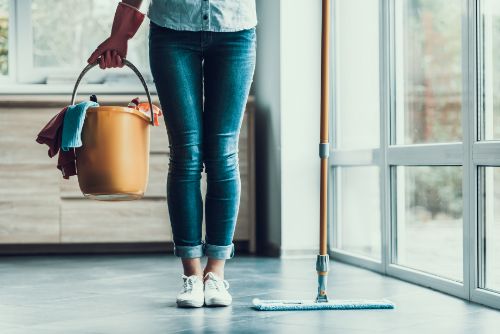 Clean Houses
Whether you love the work or not, cleaning houses can be an incredibly lucrative side hustle. If you're wanting to make anywhere from $20-$50 an hour, start building a client list. This is one business where word of mouth is everything. Once you build up a clientele, you'll be raking in the dough! 
Childcare Services
There is always a need for quality childcare services. If you have patience and the ability to manage a few kids at once, you can make a pretty penny doing childcare.
Freelancer
Freelancing your skills is a great way to earn extra income. An article written for millennialmoneyman.com explains, "If you have a marketable skill, freelancing is one of a few side hustles on this list that you can start and scale into full-time work. More and more large companies are outsourcing work to freelancers, which legitimizes the work and presents more opportunities for new freelancers. There are freelancing jobs for: sound design, graphic design, writers, film editing, photography, web development, bookkeeping and virtual assistance. A lot of freelance work can be done online, which makes this a flexible side hustle that fits pretty seamlessly with the rest of your life."
If you're in need of extra money, try one of the above mentioned side hustles.