The holidays are a big time for spending, so you need to make your finances a priority during this season so they don't get out of control. Keeping track of your spending and saving are your best practices during this hectic season.  If you don't know where to start, here are a couple ways to budget for holiday spending so you have enough to spoil your friends and family without spoiling your bank account.
Start Early
Start saving early and often way before the holiday months creep in. If you start early in the year and set aside a little money every month for holiday spending, it will add up by the end of the year. Just like you would set aside a little of your paycheck for your savings account, you can set aside a small amount for your holiday dreams. You'll have made yourself a little spending nest egg that will feel like a splurge by the cooler months. The key is anticipating the spending to keep it in control.
Limit Your List
Keep your shopping and gift list small and to the point. Make a list of everyone you want to gift items to, and then make edits or find unique cost-effective ways to spread cheer. Baked goods and DIYs are great way to show you care without breaking the bank. People will always appreciate the thought that goes into a homemade gift, and you'll be saving money at the same time. It's a big holiday win-win. By keeping your big spending list short and compact, you'll have more money to do other things during the holiday season.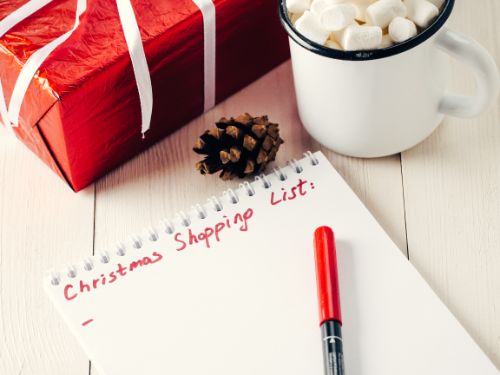 Reward Programs
Make the most of reward programs to help with your holiday spending. Credit cards that give you cash back or money towards your statement will help shave off bucks here and there which will give you more spending power without breaking your budget. Rewards programs at different stores can have you adding up points throughout the year to use them all on gifts and holiday items without having to spend money. Earn points for shopping at your favorite stores and they will give back making your life easier.
Deals and Steals
There are so many coupons and incentives to shop during the holiday season, get your clipping on and start saving. Stores run all sorts of deals and steals, so knock everyone off your list in one fell swoop. By shopping sales, you'll make sure everyone has the best gifts at cost-effective prices. It's the one time it pays to procrastinate to shop – you'll get the best prices without having to hunt.
Budgeting for the holiday season can be easy if you plan wisely and strike strategically. Try some of these ideas out for your next holiday season and see if some of the stress goes away without much effort. Enjoy spending more time with friends and family and put your efforts where they really count.