Home improvements can be big expenses depending on what you are having done. The sky is the limit as long as the budget is too. The decision to take on some home renovation costs should be thoroughly planned out and budgeted for with plenty of consideration. Here's a few ideas for budgeting and planning for these major changes in your homelife.
Set Your Goals
Sit down with everyone involved in making the decisions and set goals for what you'd like accomplished. Create a wish list of everything you'd like to have done and a reasonable timeline of when you'd like to see them accomplished. Even if you are budgeting out five or ten years down the line, that's great. Decide what projects you have the money and desire to work on now versus later. Having a plan is the best thing you can do when budgeting your time and money on your home.
Meet with Many
Get as many quotes as you can for projects that require outside help. Be honest about your budget and even share if someone else offered a better deal. Some companies might want to beat each other out for the job, so never be afraid to spark a little competition. Keeping your options open is great when you are budgeting for change. If you try to work with someone and they are going to be way out of your budget, ask if they could recommend another company – maybe they know someone who is starting out that will take a job for a little less while they are building their client list.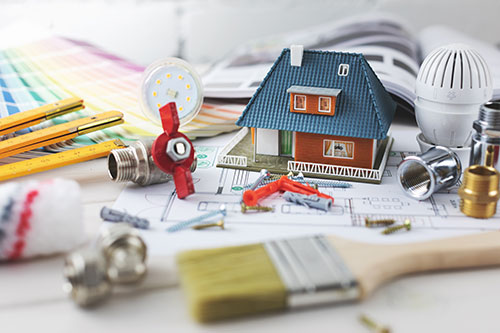 Lifestyle Changes
Look for little changes in your everyday lifestyle that could be money put towards your home improvements. Maybe you go out to eat every other day with the whole family. Look at how much that costs versus cooking at home for a few months while you save for your dream project. Take to your closets and clear them out selling items online that will be little gold mines towards your goals. There are easy ways to save and put money towards your home improvement visions without making a huge sacrifice or breaking the bank. There are always ways to find a little money here and there which will gain you bigger results in the end.
What Can You Do?
More often than not, couples are taking on their own DIY home improvements. When you sit down and look at all your goals, separate ones you think you could take on or learn how to do yourself. Replacing an old shower head? There's a YouTube video for that. Painting, wallpapering, laying floorboards – these are all things that can be learned with a little patience and time. When you are coming up with your plan decide how much effort you want to put into projects yourself versus the money you will spend or save.
There are so many routes and ways to budget for home improvements. The great thing is there is no one way to do it. Sit down with the family and decide how you want to make your dreams a reality.