Warm weather brings everyone outside for some summer fun. Take some pride in your backyard with a few DIY projects that will give your outdoor living space an upgrade and save some money in the process. There are plenty of ways to get creative in your own backyard with these projects.
Painting Party
Nothing is as easy as slapping a fresh coat of paint or stain on furniture, walls or even garden pots. Jazz up old planter pots with a bright color paint for a burst of color in your yard. These will be unique and eye catching. There are many different ways to customize regular old gardening pots – from polka dots to gold accents, the opportunities are endless. If you have an outdoor lanai area, paint an accent wall for some added sparkle. If you have some older patio furniture that's been around a few seasons, refresh with a coat of paint or re-stain them. It will look like you bought new furniture.
DIY Garden
No one says you have to hire a professional gardener or landscaper to have a swoon-worthy green space. Look for inspiration online and copy and paste into your backyard. Plants and seeds are fairly inexpensive, you just need to have some patience. If you are willing to watch wonders grow and sit back and enjoy, over time you'll have a beautiful garden at a fraction of the cost. There are a lot of people who find gardening very relaxing and rewarding. Try it out and see if it's something you love. You can even grow your own vegetables or fruit trees for some nutrition fresh from the source. With a little research online, you'll have a green thumb in no time.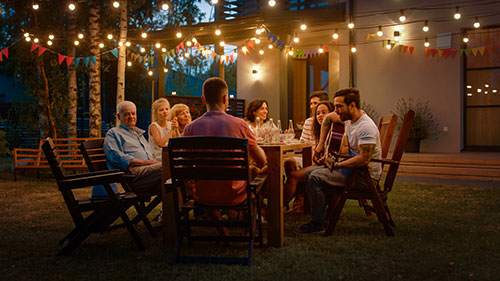 Set the Mood
For the summer nights out in your backyard, set the mood with some garden lights or an easy DIY firepit. You can make your own firepit out of brick or stone and have a great place to toast some marshmallows with friends. String lights, or garden lights are an easy inexpensive upgrade to make your space look inviting and whimsical. Perfect for those warm nights catching up with family.
Make Your Own Cushions
An expensive element of outdoor furniture is the cushions and pillows. Because they need to be weather-proof, companies charge way more for these than they need to. You can make your own pillows and cushions to transform your space while saving money. Head to your local fabric store and shop fabrics that are made to withstand some elements. Scotch-guard your creations and you'll be good to go. Accent pillows are especially easy to make if you can push a sewing machine in a straight line. Find fun patterns or colors to take your older furniture to new heights.
Working in your backyard can be really fun and rewarding. Taking on some DIY projects will give you something to do and you'll save a few bucks to put towards other renovations or things in your life.