Gardens became very popular over the past year. If you jumped on the craze or are just getting started, you know the cost that can come with it. In creating the perfect spot for your plants to grow, there are some things that you can do yourself. By DIYing some items and reusing materials, you can save and create a one-of-a-kind place all your own. Check out some of these great options you could follow or put your spin on to make it unique.
Garden Table
When working in your garden, you do a lot of bending and squatting. This is not always the most comfortable. It is nice to stand up while dealing with tasks that don't have to be on the ground. A garden table is an ideal solution to this issue. Instead of a bulky table try a pallet table that can be secured to the side of the house or shed. Jenna Burger Design has an easy-to-follow plan on how to create it with next to nothing. If you want to fancy it up a bit, invest in some good outdoor paint and make it your own.
Bird Feeders
What is a garden without some bird feeders to decorate it? Bring in some wildlife to your neck of the woods to enjoy watching while tending to your plants. There are many DIY options that you pick up the parts from your local dollar store. Countryliving.com came up with thirteen great options. One all you need is a plate and cup that you love. Glue the cup on its side to the plate handle up. Use the handle to secure it to a branch with rope or a chain. Decorate it with non-toxic paint to make it more your style. Now all you need is some bird food. Set it inside the cup, and they can land on the plate to get a snack.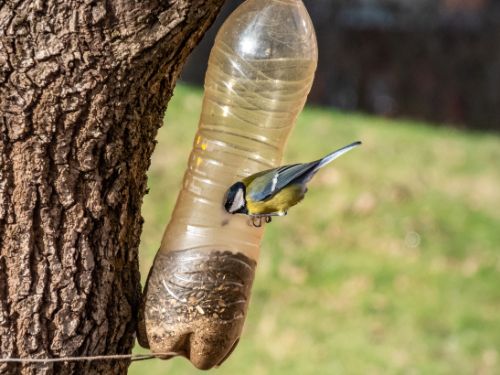 Garden Markers
After all the time spent planning out where each plant species is going to go, it is hard to think that you would ever forget. It happens to the best of us, and this is why there are garden markers to remind us. Corks from your wine and toothpicks make easy decorations markers. Get some large rocks and paint them yourself. If you are crafty, you can try your hand at painting a picture of the plant instead of just the name.
Unique Planters
A planter can come in many shapes and sizes. A great thing about gardens is that they do not all have to look the same. Some plants need deep ground, and a lot of space others can grow in just about anything. Look around and see what you can use that you already have. Even an old dresser will do. Homedit.com did an article on turning an old dresser into a simple garden for succulents or spices that grow quickly in a pot.
Get out and get your garden ready for summer!