Budgeting for the Holidays can be a bit tricky. Take the stress out of hosting by learning to do it on a budget.
Invites
When sending invitations to your event, consider going the digital route. Not only will they be delivered faster, they will be delivered for free. It's a win/win when hosting a Holiday gathering. Nobody can claim they lost their invite and you can get RSVP's quickly and efficiently. Give this useful tip a try for your next gathering!
Tablescape
Start by comparing prices when renting tables and chairs. You don't need to rent the nicest ones available. You can always hide imperfections under tablecloths and creative tablescapes. Additionally, you can save money by picking up and dropping off the rentals yourself.
For an even cheaper option, see if you can borrow tables and chairs from friends or family. Use what you have. Go for an eclectic vibe by making everything mismatched. With a little creativity, you can create a gathering to remember!
Food
Food is obviously one of the biggest expenses of any Holiday gathering. However, there are some pretty simple ways to cut costs in this area. An article written by Karen Axelton for experian.com explains, "Guests typically eat and drink more at night, so adjusting the time and format of your event can save money. For example:
Switch an evening party to a casual brunch.
Hold a daytime open house; guests typically don't expect a lot of food at these events.
Instead of a formal sit-down dinner, serve cocktails and appetizers.
Hold a dessert-only party with gourmet coffee, espresso and cocoa.
To get the most bang for your buck, choose lower-cost, but filling, foods such as pasta or soup instead of steak. Consider serving one or two showstopper items and surrounding them with inexpensive eats. Preparing your own food can cut costs too. If you're going this route, plan menus and start shopping early, watching for sales."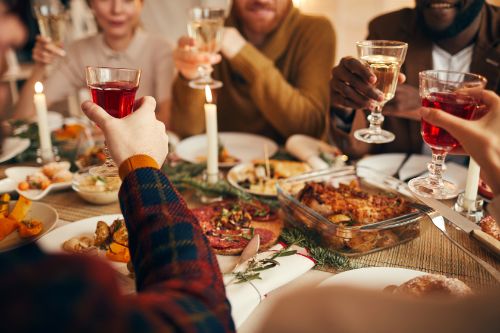 Entertainment
If your event is on the fancier side, consider hiring a group of local musicians to play for your guests. If you're looking for a DJ, consider asking a friend or family member to do that job. Finally, if your event is low key, entertain your guests with a curated playlist of your own choosing. Play board games, talk and enjoy yourselves!
Décor
Party décor can be found around your home. Use what you have. 'Shop' your home and find things that can elevate your event. Look to nature for free décor as well. Pinecones, branches from your Christmas tree and ornaments can be made into some beautiful decorations. Wrap empty cardboard boxes to make them look like presents. Shop Christmas décor sales (i.e. Hobby Lobby). You'll be surprised at how creative and innovative you can be!
It's possible to host an incredible gathering on a budget. Don't let a lack of funds stop you from creating an amazing event for you and your loved ones.