There is nothing quite like a relaxing spa day and what makes it even better doing it for cheap. Treat yourself with a budget friendly spa day right from the comfort of your own home or neighborhood. There are easy ways to have a calming day without spending a ton of money in the process. Gather some friends and family members and curate your own spa day. Here a few ways to do just that while keeping more money in your pocket.  You will still feel like you are splurging without resorting to cracking open that piggy bank.
Power in Numbers
Gather friends or family members together and commit to having a spa day where everyone gets to relax without breaking the bank. Host a spa party in your own home and everything will come to you. Have your fellow spa guests bring a spa or beauty item to the party and you'll have your very own mini spa on a budget. Someone can bring facemasks, another person can bring exfoliators and skin treatments, the possibilities are endless. By crowdsourcing your party items, you will all be spending less and enjoying more.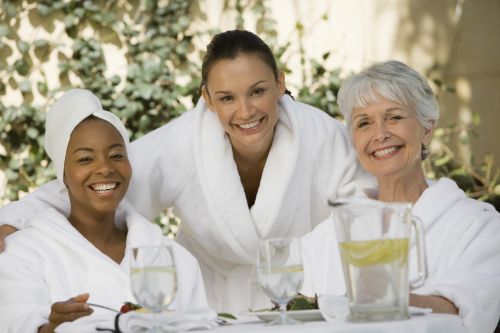 Private Spa Day at Home
While having a party can be fun with friends and family, sometimes you just want to relax on your own without anyone else around. Put together your own personal spa basket with all the essentials to treat yourself on a dime. Foot scrubbers, facemasks, exfoliators and more, gift yourself serenity and relaxation. You can turn on some relaxing music and light some candles for aromatherapy and you will have your very own spa in the privacy of your home without the hefty price tag.
Cosmetology Schools
There are probably plenty of cosmetology schools in your local area that will have amazing beauty and spa services at a budget friendly price. Students learning how to do facials, pedicures, and manicures are your best friends for doing just that while saving a lot of money in the process. You'll get the nice experience of a relaxing day without spending a small fortune.
Bundling Services
When you go to a spa or salon, sometimes you'll save more money by bundling services together. Be sure to ask if there any price breaks for doing multiple services so that you can get more bang for your buck. You can also ask for gift certificates or spa packages for presents from family members. They will know exactly what to gift you so that everyone can win during the holiday season.
Treating yourself has never been easier than a curated spa day at home or in your local neighborhood. You will get all the experience of a relaxing day at the spa without spending big and breaking the bank. Try some of these tips and get to relaxing faster and feel better knowing you are saving money in the process.