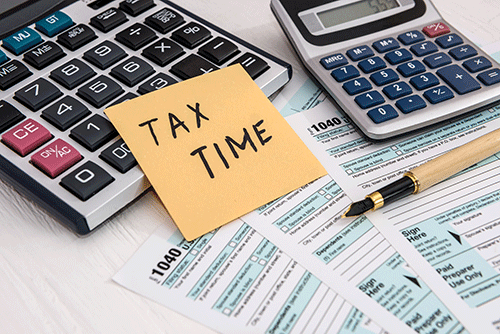 There probably isn't a soul on this planet that loves doing taxes. Even the people who do it for a living get paid good money to fill out those exciting forms. That being said, doing your taxes doesn't have to be the big, dreaded event most make it out to be. There are easier, more stress-free ways to welcome this season in your life. Think about a couple of these before you sit down to an afternoon of numbers and figures.
Choose Your Own Adventure
Decide early on if you feel confident doing your own taxes, or if you'd rather seek professional help. There is nothing wrong in paying someone else to cross the t's and dot the i's, especially if they can get your more money back. If you have a simple, straight-forward situation, don't be afraid of going at it alone – tax software and online programs are super user-friendly and easy to use. If your finances are a bit more complicated, definitely seek professional help and unload some of the burden on to someone else. You'll thank your mental health for it.
Getting Organized
Keep your forms and paperwork organized throughout the year. Don't wait until the new year to rush and gather everything. Educate yourself ahead of time to see what deductions and things you can claim in your profession. It might surprise you what you can claim as a deduction. If you keep all your documents in one place, you'll know right where to look come January.
You Can Do It
Tax preparation programs are very easy to follow along. Even if you've never filed your own taxes before, these step-by-step programs will help you at every turn. If you like filling out online boxes, you'll love filling out these easy forms. They will gather all the necessary information and then automatically pop it into your tax return. Plus, these programs don't cost anything upfront to try and see if you like them, they usually only require payment once you go to file. You can always try it out and see what you think before committing. If it gets too hairy, then you can always bring your work to a professional and let them finish the job.
Tax Prep Party
Get a group of friends together and have a tax preparation party with friends.  You can all bring your laptops, snacks and support and do it all at once, together.  It's a great way to ask your questions and get answers from others who have experience.  Bonus if you have a friend in your group who is a wizard at finances and taxes.  Then you have an expert right there to hold your hand.  Get everything done in one afternoon and have fun while doing it.  Just make sure you stay on track and schedule breaks ahead of time to stay sharp and stay focused.  The whole point of the party is to walk away with your taxes done and dusted.
Doing your taxes doesn't need to be a terrible horror story.  Keep it light and fun and you can't go wrong. You might even enjoy doing them year after year.