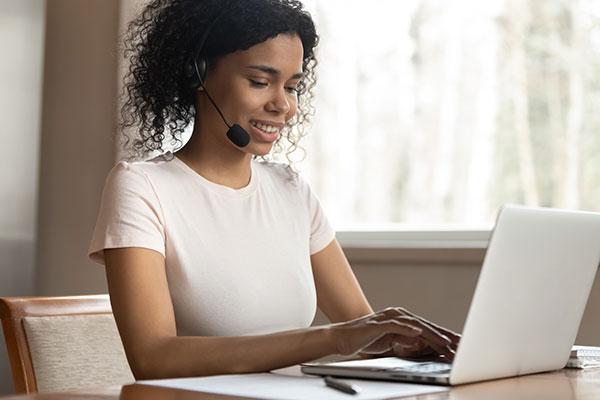 Working from home has been the norm for millions of people throughout the pandemic. Many have found they prefer working this way. If you're one of those people who thrive in this environment, here are a list of reputable sites you can use to find the perfect work-from-home job.
Zip Recruiter
Zip Recruiter is well known thanks to their commercials on financial guru, Dave Ramsay's podcast. It's incredibly user friendly and offers a couple extra helpful features. For example, the site will prompt you to upload your resume. After receiving that information, Zip Recruiter can help you determine whether you meet the qualifications for a posted position. The other feature this site has that job seekers will appreciate is salary postings. When you type in your search criteria, it will show you the average salary someone in your area makes for whatever position you're looking into. Having an idea of what to expect money-wise is extremely helpful. You want to know if you're being underpaid.
AngelList
If you're looking to work for a startup, this website will be really helpful. AngelList has job postings from over 25,000 companies. Their work-from-home positions are easy to search for and there is a lot of opportunity to join a company in its early stages. Working for a startup can be an exciting change of pace. You never know if the business might completely take off (think Amazon, Microsoft, and Apple). Getting in on the ground level could be extremely lucrative in the long run.
Glassdoor
Have you ever started searching for a job only to find the details of the listings vague? This happens a lot particularly with work-from-home jobs where they often seem too good to be true. Glassdoor operates differently by providing a refreshing amount of transparency in their job postings. You'll find salary information, company ratings (whether or not employees enjoy working there), and information about the hiring process.
Indeed
Possibly the most well-known job website, Indeed offers a large selection of jobs. As with the others, you can easily filter your results for an easy, streamlined experience. An article written by Carson Kohler for The Penny Hoarder states, "Boasting the position of "world's #1 job site" (according to itself at least), Indeed will likely offer you the most comprehensive search. Not only do employers post jobs directly to Indeed, the interface aggregates job postings from thousands of other sites. Although you'll need patience to sort through the listings (and need to sniff out the ones that aren't so legit), the search options are endless and the jobs are varied: personal assistants, social media managers, voiceover artists and food bloggers." Indeed is a resource that is extremely well known. If the job is out there, chances are you'll find it on Indeed.
Work-from-home jobs are more abundant than ever. If this is your preferred method of working, take advantage of the current job market.