Whether your family needs the extra money, or you simply want a job to have something for yourself, finding the perfect work from home jobs as a parent can be a struggle. Don't give up on your quest though! Here are a few suggestions to consider.
Fitness Instructor
Becoming a fitness instructor is a really great job option for parents. Not only does it help you stay active, it helps you earn extra money doing something you love. In order to teach classes online, you'll need to record yourself performing routines for the class you want to teach. Submit them to a company where subscribers can stream your workouts. Track views and create content your audience will enjoy.
Copywriter
If you have a knack for writing, consider entering the field of copywriting. It can easily be done remotely. In this job, you'll be responsible for writing content for companies and organizations that is cohesive with their existing voice. You also have to adhere to client guidelines and collaborations with other creatives. It's a rewarding job that has the potential to be extremely flexible.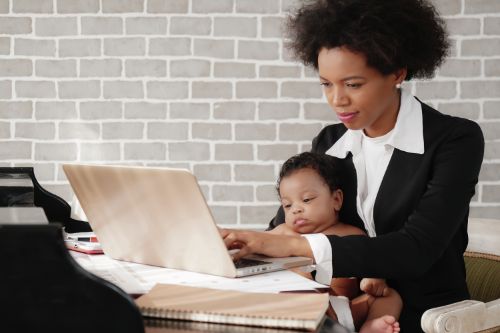 Customer Service
If it's important to you that you stay home with your children, a job in customer service isn't a bad gig. Often times, this requires you to answer phone calls and respond to emails while remaining professional and kind. It's not for everyone, but if you can stay calm while solving diverse problems can earn some pretty good money from the comfort of your own home.
Medical Transcriptionist
As healthcare continues to expand in the United States, demand for medical transcriptionists is increasing. An article written for indeed.com elaborates by saying, "Medical transcriptionists listen to recordings made by healthcare professionals and convert the recordings into written reports. These may include operative reports, clinical notes, treatment reports, discharge summaries and other procedures and treatment plans. The duties in this role may also include interpreting medical abbreviations and terminology, reviewing and editing medical documents and records, performing quality control and improvement audits, following up with healthcare providers to ensure accuracy and submitting documents for approval."
Nanny
Becoming a nanny is a great way to earn income without having to worry about finding childcare for your own children. This job is challenging but rewarding. Remember, when you agree to the job of a nanny, you'll play a heavy hand in raising somebody else's children. It's something that should not be taken lightly. Make sure you're up to the task before taking on any children to care for.
Virtual Assistant
The need for virtual assistants is rising quickly. Many people are looking online to hire individuals who can help their lives and businesses run smoothly. You'll do administrative tasks, scheduling, organizing, email correspondence, travel arrangements and much more. If you're an organized and motivated individual, this job would be perfect for you.
If you're a parent and need a work from home job, consider the above mentioned suggestions.